Corporate Karting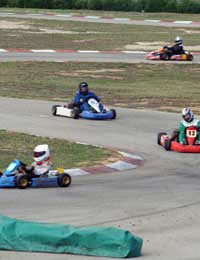 Corporate Go-karting is a great way to get to know your colleagues better (including those who don't even work in your department) and boost team morale in the process! Most people shy away from spending time with their workmates outside of the workplace, but booking a corporate Go-karting session is a great opportunity for a work outing without too much face-to-face contact! It's also a great way to entertain corporate clients, and offer them a different experience that other companies might not have even considered.
Corporate Packages
More companies are offering corporate Go-karting packages. Most of these will offer you the chance to build your own package to suit your workplace needs. You can even compete against each other in your own Go-karting championship, purely for bragging rights, of course! Different departments can form teams and race against each other, or you can pit the management against the employees.
Large numbers of Go-karters can be catered for at most circuits. You will usually need to have at least 10 people in your group, but some circuits can cater for up to 100 people. For groups of less than 10 people, Arrive 'n' Drive or Open Events are recommended instead. These aren't quite the same as corporate karting events though. There are circuits across the country, so finding one near to your workplace should be easy.
Extras
As well as the Go-karting facilities, many circuits also offer conference rooms so that you can conduct any crucial meetings before or after the Go-karting, as well as catering and hospitality facilities for all-important eating and drinking. There are also bar facilities at a lot of circuits so that your team can relax after the Go-karting and enjoy some good old-fashioned team bonding over a few drinks before heading home.
Most of the time, corporate track facilities are exclusive, which means no one else will be able to use the track at the same time as your team (this won't always be the case though, so it's best to ask when you book). Your chosen venue will often be able to create the perfect corporate Go-karting event for your team - all you have to do is ask.
Other Activities
You can also combine corporate Go-karting with other recreational activities, such as Quad biking, paintballing and field archery. There will often also be catering facilities, which may include buffet menus, a hot food menu and barbeque options, but a lot of this will depend on the size and location of the circuit in question (for example, these options may only be available at the larger circuits or in and around London). Vegetarian options may also be available on request, but you will probably have to let the catering staff know this in advance, as they may have to prepare vegetarian food specifically for your party.
If you like the idea of getting your colleagues together for an afternoon of corporate Go-karting, why not round up your team and give one of your local circuits a call? It's a different and fun way to improve team spirit throughout the company (from the cleaners right through to higher management).
You might also like...