Karting Open Days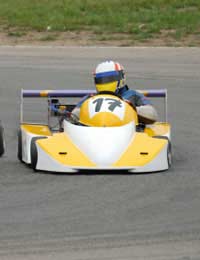 Open Days can be a great way to get involved in karting for the first time. Anyone over the age of eight can arrive at their nearest karting circuit and start karting - as long as there are available karts of course! This obviously cannot always be guaranteed, so to avoid disappointment, you are advised to book your session in advance to make sure that you will definitely be able to just turn up and start karting. Most circuits have Open Days that are designed to promote the karting club that they are being held at, and also to encourage new members to start karting on a regular basis.
Not every karting club will hold any Open Days, so it is a good idea to contact them beforehand and ask whether they do. Even if they do hold an Open Day, it is very common for karting clubs to only hold one or two throughout the year, as the primary aim is really just to promote the karting classes that they hold . It is best to contact your local circuit and ask them.
Open Days are often held for small groups who do not have enough people to make up a full party (for example, if your group does not have enough people for a full Stag or Hen night).
Arrive n Drive
If your local karting club does not run any Open Days, many circuits offer an "Arrive 'n' Drive" system instead. This is mostly for kids though, but some clubs will extend the invitation to adults as well. Again, it is advisable to call and ask beforehand. Again, it is best to contact your nearest circuit and find out the best way to get involved, as not all circuits offer "Arrive 'n' Drive".
If you are interested in getting started in karting, you should contact your nearest circuit or karting club and ask whether they are planning to run any Open Days this year. These are often only held once or twice a year, so if you have missed the most recent one, you might have to wait quite a while for the next one to come around. If that's the case (or if your nearest circuit does not run any Open Days), lots of circuits do offer an alternative in the form of the "Arrive 'n' Drive" feature, which is very similar to the Open Day concept. Booking in advance is recommended, as there are bound to be lots of other people who have had the same idea!
You might also like...