Petrol or Pedal?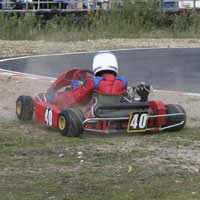 Choosing between a petrol-powered Go-kart and a pedal-powered Go-kart is usually an individual choice but there are sometimes other factors that come into play that will be outside of your control. Both types of Go-kart have their own pros and cons, so it is always a good idea to do some research on them before you make a decision.
Petrol-Power
Most Go-karting in the UK is done using petrol-powered Go-karts. These Go-karts are strictly for outdoor Go-karting, but this isn't usually a problem as most races are held outdoors. If the Go-karts were to be driven indoors, it would be far too dangerous, as the toxic fumes put out by the Go-kart would have nowhere to escape to.
Petrol-powered Go-karts are great for off-road Go-karting. Off road Go-karts are not the same as the Go-karts that race on the track. Because of the challenges posed by the rugged terrain, off road Go-karts need to be much more durable.
If you plan to go off road Go-karting on a regular basis, you'll need to either buy (or build) your own off road Go-kart, or use the off road Go-karting facilities offered by lots of companies. For the latter, gift vouchers are a nice way to introduce other people to off road Go-karting.
One of the big disadvantages of petrol-powered Go-karts is the noise and smell that they produce.
Pedal-Power (also known as electric)
Pedal-powered Go-karts are very popular across mainland Europe. Countries such as Austria, Switzerland, France and Italy hold electric Go-karting races (which are separate to the petrol-powered Go-karting races and championships).
The Gravitron European-style Electric Kart is the sole British team here. There are less of these types of races, and they tend to only take place abroad, but they are still lots of fun to take part in.
If your nearest circuit only offers indoor Go-karting facilities, pedal-powered Go-karts will be your only option. Most circuits in the UK offer both indoor and outdoor Go-karting facilities though, and the big advantage of pedal-powered Go-karts is that they can be used in both cases.
Many people expect these types of Go-kart to be harder to drive, but in reality, they are not that different to petrol-powered Go-karts. The four batteries that power them are situated in the side pods of the Go-kart, and are nothing like as heavy as people expect them to be. They are cleverly positioned so that the extra weight does not affect the handling of the Go-kart.
Pedal-powered Go-karts must always be driven on flat ground, so they can't be used in off-road karting.
As well as being more environmentally friendly than their petrol-powered counterparts, pedal-powered Go-karts don't create the same noise pollution and unsavoury smells.
Whether you choose a petrol or pedal for your Go-kart depends on what you plan to use your Go-kart for. If you're looking to race competitively on the UK circuit, petrol-powered Go-karts are your best bet. You can still race using pedal-powered Go-karts, but these mostly take place on mainland Europe, and aren't as competitive. If you just want to Go-kart on a casual basis, it doesn't really matter which type of Go-kart you choose.
You might also like...