A Guide to Helmets and Visors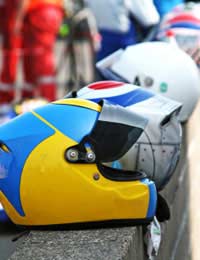 When driving a go kart, a helmet must be worn at all times. Helmets are a vital piece of go karting equipment, guarding the driver against both impact and abrasive injuries. There are a variety of factors that you will need to bear in mind when seeking out and investing in a go karting helmet. Cost, safety and fit are all issues that must be considered.
Prioritise safety
The most important factor to think about when choosing a go karting helmet is safety. A variety of helmet styles are available, including half, three quarter and full face helmets. Half helmets protect just half of the head and, in terms of coverage, are comparable to a regular cycling helmet. A three quarter helmet has the added benefit of eye protection, in the form of a visor. A full face helmet covers the face in its entirety, protecting the nose, mouth and chin as well as the skull and eye area. Whilst half and three quarter helmets are often cheaper than their full ace counterparts, most go kart drivers point to full face helmets as the safest models.
Be sure to read up about or ask a shop assistant to describe the safety features of any helmet you are considering purchasing. Look out for useful, additional safety features, such as fireproof materials.
Find the perfect fit
A good fit is vital. Take the time to find a helmet that fits you perfectly as a poorly fitting helmet will not provide you with maximum protection. Take into account the weight of the helmet, too. The G-forces you experience when karting will make a heavy helmet feel even weightier as you struggle to keep your head upright. Choose a medium weight helmet to avoid neck strain.
The necessity of finding the perfect fit means that buying online is not always the best option. If you do choose to purchase a helmet online, make sure that the online shop offers a reliable returns policy, enabling you to send the helmet back if it does not fit the bill.
Consider cost and quality
The price of helmets varies considerably. Budget helmets can be purchased for as little as £50, whilst the most expensive, top of the range models can set you back hundreds of pounds. If you are shopping on a budget, be sure to weigh up your options. The cheapest helmet is not always the most cost effective. Take note of the helmet's quality, too. How long will it last? Are the materials sound? Will the helmet provide you with adequate protection?
Some go karters choose to buy second hand helmets, either from go karting acquaintances or via online auction sites. If you decide to go down this route, only purchase a helmet that is in excellent condition and that you know will fit you perfectly. Ask for a full report of any damage or defects. Whilst it may be tempting to compromise on quality for the sake of your bank balance, safety should be your number one priority when choosing a helmet. Wherever you choose to buy your helmet from, make sure the model you opt for is certified legal for wear whilst go karting.
Investigate helmet accessories
Remember that it is possible to customise your helmet. A variety of helmet accessories are available, from rain visors to coloured or tinted face shields. These products are designed to maximise your helmet's potential, so it is well worth investigating them.
Take the time to find the perfect helmet and never feel pressurised into buying a certain model. You will be wearing your helmet regularly and will depend upon it for your safety, so the purchase of it should not be taken lightly. Remember, too, that shopping for a helmet can also be fun. Look for your favourite colours, or consider investing in a few eye-catching helmet stickers.
You might also like...