Kart Driving Days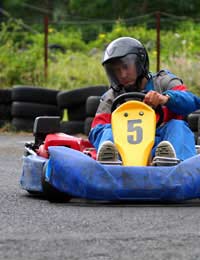 If you're keen to get started in karting but can't spare the time to take lessons on a regular basis, a Kart Driving Day are a good compromise. They are offered by some karting tracks and are ideal for new karters who want a full taster of the kind of skills that they'll need to become an excellent karter.
Where Can I find a Kart Driving Day Package?
Kart Driving Days aren't widely available in the UK, and your local karting circuit may not offer one. You can ring them to find out if they offer something along this line (they may call it something different), or you can use Google to find which UK karting circuits offer it.
What Can I expect?
Because Kart Driving Days usually take place over the course of one full day, they are very intensive. To be able to cover the basics of karting in just one day requires lots of concentration and enthusiasm. Of course, the time restrictions mean that things can't be covered in great detail. It's a great way to get your feet wet, rather than allowing you to cut corners. Karting lessons are still the best way to become an expert karter and there is no real way around this if you intend to be one of the best.
What Skills Will I Learn?
Karting Driving Day will immerse you in the basics of karting, including most of the following:
Racing lines: Being able to find the racing line that will give you the fastest possible lap time is one of the most important aspects of kart racing. A Kart Driving Day will be able to offer you an introduction into this. The quickest way to gain a good understanding is to take a hands-on approach, and this is a big part of a Kart Driving Day.
Steering: There's more to steering than simply turning the wheel. The way in which you handle the wheel has an effect on how the kart behaves. This is especially important in bad weather, when you need to be aggressive when steering to make the kart turn into the corners properly. Again, you'll have the opportunity to practice this during the day.
Braking: Braking is another fundamental part of driving a kart, particularly when turning into corners. As with racing lines, there is an optimum line to take when braking, and this varies according to the track that you're driving on. Practicing this is probably the best way to get the hang of this and help you be able to find the best line to take when braking into a corner.
A Kart Driving Day will only be able to provide you with a basic understanding of driving skills. This can help to make you better prepared for karting lessons, but it's not supposed to be a substitute for lessons. Regular practice is by far the best way to improve your karting skills. That said, it's a good idea if you're not sure whether karting is really for you, and don't want to commit to regular involvement in the sport before you've had a chance to get involved.
You might also like...