My Experience of Karting for the First Time: A Case Study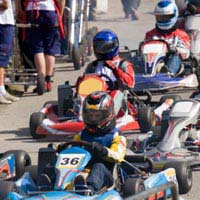 Karting is intriguing to many, perhaps because it is widely known to be the first step on the road to becoming a professional Formula 1 driver. The sport thus holds an exhilarating appeal with its connotations of speed, danger and success. Karting, however, is also accessible to many and is popular as an extreme 'experience day'. So how do first time drivers get along? We got in touch with Joseph Egerton, a student from London, to learn about his initial experience behind the wheel.
Q. So where did you go karting for the first time?
A. I went with a large group of family friends to a karting centre in Wales. The space was an old air strip which had been converted. We rode karts with 4-stroke engines, those usually used for recreational, non-professional karting.
Q. Did you receive a safety talk before you got behind the wheel?
A. We certainly did. It was a rather serious talk, perhaps fifteen minutes in length. Firstly, they explained the safety clothing to us. We had to wear a fire-proof under-vest, overalls, sturdy boots, protective under-gloves and a pair of gloves on top of that. The instructor also spoke at length about the helmet and showed us how to prevent the visor from steaming up. The basics of the karts were covered; we heard that the engine is like that of a lawnmower. The break down procedures were also carefully laid out. If we broke down, we had to signal to a marshal and were prohibited from restarting the karts ourselves. If someone crashes, a yellow flag is waved to signal that no overtaking is permitted in that part of the track and that drivers should be cautious. We also learnt that we would be alerted to a serious crash by a red flag and that we should all stop in that event. Behavioural codes were also explained: if you crash more than a few times you are taken off the course and if you're seen to drive aggressively you get taken out of the round.
Q. Was it an expensive experience?
A. I'd say it was good value, actually. It was approximately £15 each for two ten minute races. Bare in mind that ten minutes feels like a long time. About ten laps can be completed in that time.
Q. Was it fun?
A. It was. I loved the competitive element and everyone got really into it. I think that it helped being a normal road driver, as steering, breaking and accelerating weren't too much of an issue. My younger brother, who wasn't a driver at the time, had less fun as he struggled to master the basics. I found picking breaking spots particularly satisfying and loved accelerating through the corners. Overtaking was great fun too. I'd definitely go again.
Q. Did you crash?
A. I crashed three times. Although you crash into a wall made of tyres, it is fairly painful. The plastic seats hurt as they jar into your back. I spun once, which was quite nerve-wracking. I could feel the car sliding around and had to get used to steering into the skid to keep control of my vehicle. Some of the 4-strokes can reach speeds of 45-50 mph, so things can get rather scary.
Q. Was it physically taxing?
A. It was. I'd say that being sporty and fit is definitely a benefit when it comes to karting. I ended up with backache down one side from repeatedly turning in one direction and leaning hard into the corners. The older, less fit amongst us had very sore backs when we left.
Q. Did it require high levels of mental concentration?
A. I needed to be really alert. In the kart, I felt dauntingly close to the ground and could feel every bump in the tarmac. Corners seemed to come around very fast and close. I directed all my concentration to controlling the vehicle and keeping my cool.
Q. Is karting a sport you'd think about doing more frequently?
A. For me, becoming a regular driver with a kart of my own would prove prohibitively expensive. I'd definitely do it again though, perhaps as a birthday treat to myself.
All in all, Joseph had a memorable and exhilarating time on the tracks. He recalls how he and his friends were shown up as they left. A young boy in a powerful red 2-stroke kart confidently smashed all their times and demonstrated how to kart like a pro. The next Lewis Hamilton, perhaps?
You might also like...