Avoiding Accidents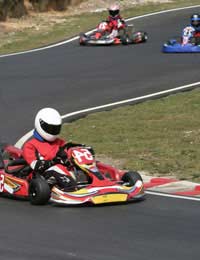 Almost every Go-kart driver will be involved in an on-track accident at least once in his or her Go-karting career. They can be easily avoided though - the key is to know how to drive safely without compromising your own race results.
Of course, you can never know what other drivers around you might do next, but by driving in a safe and careful manner, you can reduce the chances of being in an accident.
Give Other Drivers Some Space
It is always tempting to follow the driver in front as closely as possible so that you can pass at the first opportunity, but this isn't always the best idea. Not only is it considered poor etiquette, it's always a potential accident waiting to happen.
If the driver suddenly slams on the brakes when you're not expecting him to, the chances of you being able to stop in time are very slim. Leaving a reasonable amount of space between yourself and the driver in front gives you enough time to react to unexpected situations.
Get The Right Balance
You need to drive aggressively to get the best possible lap time, but you also need to drive safely. It's a very fine line, and one that often only the best Go-kart drivers get right. If you drive too aggressively, you will be posing a big danger to the other drivers, as well as increasing your chances of losing control of your Go-kart.
On the other hand, if you drive too cautiously, you will be compromising your results. By travelling too slowly or taking an overly safe line, you could actually be posing just as bad as a danger for drivers coming up behind you. Striking the right balance usually comes with experience, but it's a skill that the top Go-kart drivers tend to pick up quickly.
Corners
One of the trickiest things for new Go-kart drivers is getting to grips with turning into and going round corners. Many people make the mistake of trying to power their way through a corner, but it's best to practice your cornering skills at a less ambitious speed until you get more experienced.
You need to steer in the direction of the turn, shift your body weight as you turn, and control the throttle so that the rear tyres can complete the turn. Many beginners don't have the correct turning skills, and this often results in the Go-kart sliding off the track.
If you find that your rear wheels start to skid, turn in the direction of the skid, and don't accelerate or brake until the Go-kart has regained control.
Bad Weather
Unsurprisingly, lots of accidents happen in poor weather conditions, as the track is more dangerous. In this situation, you need to proceed with extreme caution. Turning into corners is much more difficult in the wet, so you need to be less aggressive than you normally would, or you almost certainly find yourself in the barriers.
Knowing how to drive safely without compromising yourself is a vital skill in race situations. Of course, you can't always anticipate what your fellow competitors might do, but by driving responsibly yourself, you can limit the chances of causing an accident.
You might also like...