Chassis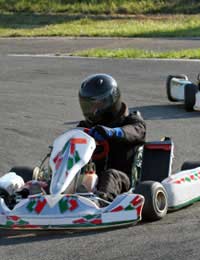 Most people stress about how competitive their Go-kart engine is but it's actually the chassis that is arguably the most important part of your Go-kart. In a nutshell, the chassis holds up the rest of the Go-kart (which is why it is also known as the frame).
Ideally, the chassis needs to be light enough to give you the best possible handling, but at the same time, it must be strong enough to support the whole of the Go-kart. As you might expect, the way that the chassis is constructed plays a big role in this, which is worth bearing in mind if you plan to build your own Go-kart.
Stiff frames were used to construct Go-karts in the past. This consisted of shorter bars that crossed over each other, and often broke down. This was mostly because the Go-karts did not have the right tyre traction or suspension to reduce the trauma that a Go-kart goes through during acceleration, turning in and braking.
Having the wrong tyre traction can mean that your Go-kart doesn't have adequate weight balance or stability, so it's easy to see how the wrong type of chassis could have a big impact on your handling skills. Tyres with low traction don't have enough grooves to handle the track surface properly.
Modern Go-karts tend to use longer bars for the chassis, which offers more flexibility, and allow you to move better over a variety of track surfaces, especially when turning in. It is the chassis that is ultimately responsible for how well your Go-kart turns into corners.
The best combination to look out for is a Go-kart that has high traction tyres and is flexible. As a general rule of thumb, circuits that are more demanding require a more flexible chassis, and vice versa for less demanding tracks.
Generally, you get what you pay for. The cheaper Go-karts are often less expensive because they are just not as good as the more higher-priced Go-karts, and it is often the chassis that is not up to par. Obviously, this is going to have a major effect on how easy your Go-kart is to drive. Inappropriate slides and drifting is common in Go-karts that do not have the right type of chassis. Not only will this compromise you during your races, it is also potentially dangerous.
Design plays a major part in how well your chassis works. If the rear rails are not very wide, there will be less "side bite". This refers to how well your Go-kart fixes itself to the track without skidding or sliding. Wider rear rails make it less likely that your Go-kart will flip over if you crash, as you have more stability.
The type of chassis that your Go-kart needs is often dependent on the type of track that you will be racing on. If you're going to be racing mostly on concrete or asphalt tracks, look for a chassis that has a longer front and a narrow back. It's almost the complete opposite for racing on dirt tracks.
You might also like...