A Guide To Paints and Primers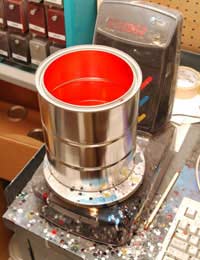 Choosing the right paint, colour, finish and primer for your go kart can be hugely rewarding. It is important to remember that paint is just as important as design when it comes to the look of your go kart. As such, a paint job can make or break your kart's appearance. A successful paint job will set your kart apart from the rest, as well as hiding any imperfections. But which products should you opt for when it comes to your go kart's bodywork?
Choosing a finish
Choosing the right finish for your go kart's bodywork can be tough. Gloss paint's smoothness and shininess is attractive, reflecting the light and creating a slick image. The shininess of the paint can, however, highlight and accentuate imperfections. Matte paint, on the other hand, is ideal for disguising imperfections but offers a duller, less impressive finish. Satin and semi-gloss products are slightly shiny and hide imperfections fairly well, making them good compromises.
Increasingly, manufacturing companies are offering a greater variety of finishes and effects to cater for different tastes and requirements. Consider opting for a mottled finish, for example, if you are keen to hide imperfections as much as possible.
Deciding on a primer
Aside from opting for a matt finish, there are a number of other ways to effectively cover imperfections on your kart's bodywork. Primer is one of these. Whilst many paint containers state that a primer is not necessary, most paints will be enhanced by one. This initial coat creates a smooth surface by filling in any rough patches on the metal surface of your kart. It also creates a surface upon which the top coat will stick well.
It is possible to buy primers that cover rust. These are relatively expensive but can make a real difference to the appearance and longevity of your kart's bodywork. If you are looking for an especially smooth surface, consider opting for a sandable primer. These are simply sprayed on, then sanded down. Apply as a many coats and sand as many times as you wish, until you have achieved the desired result.
Primers are relatively cheap, whilst paints are fairly expensive. Using a primer is an especially cost effective option as it minimises the amount of paint needed for the finishing coat.
Painting your kart
Painting a kart can be a difficult job, given the size of a kart's frame. Be sure to paint in an open area, as paint fumes can be dangerous. Never paint in a very windy area, however, as dust and other materials may spoil your job. Avoid painting in direct, strong sunlight, too. You should also be aware of your surroundings, as spray paint can travel. The aim is to paint your kart, not your regular car or the contents of your garage!
If possible, hang the kart frame from a rope whilst painting it. This will allow you to paint all areas of it, except for the area directly adjacent to the rope, without spoiling the finish. Once the paint has dried, remove it from the rope and paint in the gap with light, feathery strokes.
Be sure to give the frame plenty of time to dry. Don't be tempted to move it or begin more work on it before it has dried completely, or your hard work will be ruined by finger prints and scratches.It is in painting your kart that you have the opportunity to express your personality and fully realise the vision you have for your vehicle. Take time and care over the process, and you will be proud to show off the finished product on the track.
You might also like...