Tyres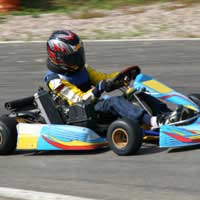 Go-kart tyres are actually a lot smaller than those on a normal car or other road vehicle. They are made from aluminium or magnesium alloy. As with Formula One there are different tyre choices for different weather conditions: slick tyres for dry weather, intermediate tyres for weather that is somewhere in-between dry and wet, and wet weather tyres for when it is raining. There is also the option of using special tyres for more unusual weather conditions, such as when the track is icy.
Tyre compounds range from the very hard to the very soft. Car tyre manufacturers, such as Dunlop and Bridgestone are two of the main tyre manufacturers, but there are also tyre manufacturers that produce tyres exclusively for karting. Vega and MG are two examples of this.
Slick Tyres
Slick tyres have no grooves in them so that they can have optimum contact with the track surface, and decrease the amount of traction. They are never used on an ordinary car, which must cope with all possible weather conditions with the same type of tyre, but they are ideally suited to any form of motor racing that allows drivers to change their tyre choice according to the weather.
Slick tyres are made of fairly soft rubber (but not as soft as wet weather tyres). They offer more traction on a dry road than grooved tyres, but they have a lot less traction on a wet track than grooved tyres, which is why they are not used in wet weather. In the wet, they can hydroplane as a result of water being trapped between the tyre and the track. Without grooves in the tyre, there is nowhere for the water to go.
Intermediate Tyres
These tyres are generally used when there is a little moisture in the air and on the track, but not enough to warrant bringing out the wet weather tyres. Because of this, the rubber that they are made from is softer than slicks, but not as soft as wet weather tyres.
Intermediate tyres are also used when there is likely to be low amounts of traction. Worn wet weather tyres (ones that have already been used in a previous race or practice session) are sometimes used instead of intermediate tyres.
Wet Weather Tyres
These tyres are used when the track is very wet, and often there will be standing water on the track. They are not much different from the tyres found on cars, but they are too soft to be used in dry weather, as the rubber would disintegrate within minutes.
Unlike slicks, they are grooved tyres, and offer much more traction in the wet than slicks. However, they offer a lot less traction in the dry, hence why are they only used in the wet. The grooves can get rid of water that collects between the tyre and the track.
Although they don't specifically create more grip, they do allow the kart to maintain more contact with the track surface, which stops you from losing grip.
Special Tyres
These tyres are used when circumstances occur that don't fit the other three tyre choices. Spiked tyres are used the track is icy. These are basically slick tyres with screws put in them. Cuts (slick tyres that have been modified with a lathe in order to get the best possible handling) are often used on Speedway tracks that are made from dirt or clay, as there are likely to be tracks that need a lot of grip.
Your tyre choices will very much depend on the weather, and you will often find that the tyre choice that you start the race with is not necessarily the one that you end the race with. As you progress through your karting career, you will find it much easier to quickly decide when you need to change your tyre choice - in a race situation, a momentary hesitation can cost you points, and ultimately places.
You might also like...
what are the specifications of tyres used in go karts . specification in terms of dimension and coding