Building Up General Stamina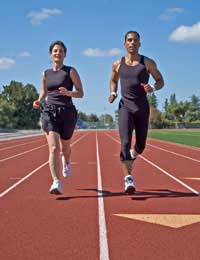 Building up your general stamina is a good idea for go karting, as it can give you a physical and mental advantage over your rivals. Building up your general stamina means that you are less likely to fade both physically and mentally during a go karting race. Not all go kart racers spend as much time as they should on the fitness side of things, which can result in them becoming physically and mentally tired during go kart races.
Exercises to Build Your General Stamina
Walking is an easy way to improve your general stamina. As it is a low-impact exercise, it is kinder on your joints than running or jogging. Swimming is another activity that is ideal for building up your general stamina, as it works your whole body. Another good option is aerobic cardiovascular exercise such as cycling or running. See our article on "Cardiovascular Fitness" for more advice on these types of exercises.
If you prefer to exercise in the gym, you could try spinning classes. This involves indoor cycling on a stationary bike, although the bikes in question are more specialised than your average stationary exercise bike. Although it takes place indoors, it is designed to mimic outdoor cycling (for example, by cranking up the resistance on your bike and standing on the pedals at various intervals). An instructor will head the class in similar style to an aerobics class. Upbeat music is usually played to encourage you to continue "spinning" at a fairly rapid pace. There is also the added motivation of being surrounded by other people. Because of this, spinning classes are a good way to increase your general fitness as it gets the blood pumping. As it is a high intensity cardiovascular exercise, spinning classes are not advisable if you do not already have a respectable level of fitness in the first place. They are intended to build on decent fitness levels, rather than build up your stamina from scratch.
How Long Does It Take To Build Up General Stamina?
If you draw up a fitness plan and stick to it, you can build up your general stamina in a matter of months. Generally speaking, the more effort you put into your fitness, the greater the rewards. However, it is important to be realistic when creating a fitness plan. If your goals are too challenging, it is easy to lose motivation, which means that you are unlikely to see any significant results quickly. Building up your fitness slowly but surely is better for your body as you are less likely to injure yourself by pushing your body far beyond what it is used to.
Building up your general stamina is essential if you want to compete at a high level in go karting. By increasing your fitness levels, you can gain an edge on any of your rivals who have skimped on the fitness side of things, as you are less likely to become mentally or physically tired. There are various different cardiovascular exercises that you can do to build your general stamina, including activities such as running, walking, spinning and swimming.
You might also like...