Lower Body Training for Karting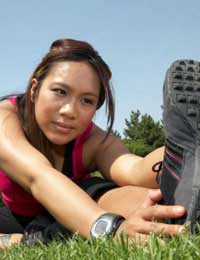 To properly control the pedals in a go-kart, you need to be constantly using your legs to use the brake and accelerator pedals effectively. This can be tiring for your leg muscles. Thankfully, doing lower body training can help you to build up the strength in your legs, as well as helping you to get in and out of the kart more easily. This is not always as easy as it sounds, as go karts sit low to the ground, and it is possible to pull or even tear muscles climbing in and out of the go kart.
Tips For Lower Body Training
Before you embark on any lower body training, it is essential to warm-up your muscles properly to avoid injuring yourself. This is especially important if you do not normally exercise the relevant muscles much. Many of the exercises that can effectively work out your lower body involve weights. It is important to set the machine(s) at a weight that is in line with your strength levels. Being too ambitious with your choice of weight can result in injury. As your strength levels increase, you can increase the weight(s) slightly to build up your strength levels further, but be make sure that you are realistic and do not try to make too big a jump.
Examples of Lower Body Training
Quad exercises are often done on a leg extension exercise machine. As you build up the strength in your legs, try three sets of ten to twelve reps, followed by one or two sets of four to eight reps with a slightly heavier weight. This works the quadricep muscles in your upper leg.
Hamstring exercises are often done on a hamstring curl machine. This requires you to lie on your stomach with the pads of the machine in line with the bottom of your calf muscle, with your knees positioned just beyond the edge of the machine. Using the side of the bench as a means of supporting yourself, gently bend your knees to encourage your heels to move up to your bottom, and then gently move them back to their original position. Doing several sets of around ten reps will work the hamstring muscle in your upper leg.
Squat exercises are often done while standing against a wall. With your feet shoulder-width apart and planted flat to the floor, bend your knees so that your upper body moves towards your lower body. Straighten your legs to complete the movement. Although it sounds simple, squat exercises need to be performed correctly to minimise the chances of injuring yourself. This is particularly true if you lift weights while doing squat exercises, as the added weight can place a lot of pressure on your back and spine. However, when squat exercises are performed correctly, doing several sets of reps will work a range of different muscles in your lower body including the quadricep and hamstring muscles in your upper leg and the glute muscles in your bottom.
You might also like...