Strengthening Neck Muscles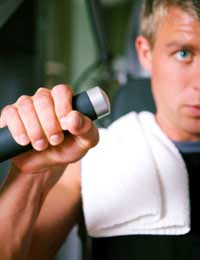 A combination of high speeds and tight corners means that go karting tends to put your neck muscles under a lot of pressure. Because of the G-forces that affect your body when you take corners, you will often find that your neck muscles ache after even a fairly short go karting session. Fortunately, doing exercises to strengthen your neck muscles can help with this. As a word of caution, it is best to seek advice from a qualified trainer before embarking on strengthening your neck muscles, as it is easy to do significant damage to your body if you are not really sure what you are doing.
Why Spend Time Strengthening Your Neck Muscles?
There are several benefits to strengthening your neck muscles as part of your fitness work for go karting. Firstly, it will go a long way towards reducing the discomfort that most novice go karters experience when first getting involved in the sport. This discomfort is mostly the result of G-forces.
If you intend to move into the higher echelons of motor sport, you will need to be able to withstand high G-forces. For example, the average Formula One driver contends with around 5g under braking, 2 g under acceleration and 4-6 g during overtaking manoeuvres.
What Type of Exercises Will Strengthen Your Neck Muscles?
Isometric neck exercises are a good way to work your neck muscles without injuring yourself. These neck exercises are best done every other day so that you do not strain your neck muscles. This is particularly important if your neck muscles are not used to be exercised regularly. To do simple isometric neck exercises, you can follow these steps:
Stand with your feet shoulder-width apart.
Gently push your head backwards and use your neck muscles to keep your head still. After around ten seconds, relax your neck muscles.
Put your hands on the back or side of your head, and gently push your head forwards. As before, use your neck muscles to keep your head still. Relax after ten seconds.
Repeat the steps several times.
For side isometric neck exercises, stand with your feet shoulder-width apart and put your right palm against the right side of your face so that it is just above your right ear.
Gently push your head to the left as if you are trying to connect your ear and shoulder. While doing this, contract your neck muscles to keep both your head and neck in the right position.
Do the same with your left side, and repeat the steps several times.
Strengthening your neck muscles is recommended for helping your body to cope with the G-forces that can cause a lot of discomfort later on. While the G-forces that affect you in go karting are nowhere near as big as the G-forces that affect Formula One drivers, you can still end up with a very sore neck in the hours following your go karting session. Before you start any neck strengthening exercises, it is best to consult a trainer to make sure that you are not going to cause any damage to your neck or spinal cord as a result of your intended fitness work.
You might also like...