Types of Upper Body Training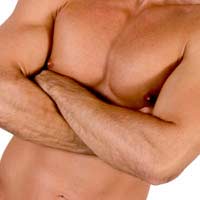 Upper body training is a good way to work out your upper body. A strong upper body is recommended for go karting as steering and cornering can quickly make your arm muscles ache. Although this may not affect you during your go kart races or practice sessions, you will usually feel the effects later in the day. Upper body training can counteract this.
What Is Upper Body Training?
Generally speaking, upper body training involves working your torso, back and arms. For go kart racers, working your neck muscles is also recommended. See our article on "Strengthening Neck Muscles" for more on this. Upper body training for the chest, biceps and triceps usually involves weights. It is important to use weights that are in line with your current strength levels. Using weights that are too heavy will invariably result in injuries.
Tips For Upper Body Training
Fitness experts recommend continuously changing up your upper body training so that your body does not have an opportunity to become too used to any one particular workout.
Start each upper body workout with warm-up stretching. If you go straight into a workout without doing the necessary warm-ups, you can easily injure yourself.
As upper body training workouts are usually fairly intensive, you should limit them to every other day to give your body chance to recover on the days off.
Upper Body Training – The Chest Muscles
Warm up your chest muscles by lifting light weights. Incline the bench to around 30° and do two or three sets of ten reps with a dumbbell. After this, switch to flat bench pressing. This can be done using free weights or on a specific bench press machine. Bench fly's on either a flat bench or an inclined bench is another option for working the chest muscles. Three sets of twelve to fifteen reps is fairly standard.
Upper Body Training – The Bicep Muscles
You can use either free weights or a pulley machine to work your bicep muscles. The general idea is to use a variety of weights, starting off with the heaviest weight (but one that is in line with your strength levels) and drop down. Do ten reps for each set, and drop down a weight for each new set of reps. For free weights, push your back flat against a wall to concentrate solely on the biceps.
Upper Body Training – The Tricep Muscles
Tricep dips are a good way to work your triceps. If you do not have a tricep dips machine, you can use a bench instead (sit on the floor in front of the bench with your hands on the bench behind you, and use your arms to lift yourself up and down). You can also use a Swiss ball. Keeping your hands central on the Swiss ball, perform two sets of reps, with a short rest between each set of reps. This is not as easy as it sounds as it can be difficult to control the Swiss ball while doing reps!
Upper Body Circuit Training
Upper body circuit training combines several different upper body exercises. Ideally, you should have minimal rest between sets of exercises (thirty seconds or less). Reps of between twelve and fifteen (for an intermediate level) or between fifteen and twenty (for an advanced level). Recommended exercises include:
Biceps curls
Tricep dips
Tricep kickbacks – Sitting on a firm bench with your feet flat to the floor, lean forward as far as possible and extend your arm backwards. Keep your upper arm as straight as possible, with your elbow tucked into your side. Repeat this for several reps.
Wide arm press-ups – Do press-ups with your palms facing forwards and your hands a double shoulder-width apart
Close arm press-ups – Start off in a box-style with your arms shoulder-width apart if you have not tried this before, as it can be difficult to do. This style of press-up involves creating a triangle with your thumbs and fingers so that your hands and arms are close together. Perform press-ups in this position, pushing your elbows outwards as you push down.
Breast strokes – With your feet shoulder-width apart, do breast stroke swimming movements while holding light weights
Bench presses
Shoulder presses
You might also like...