End of Season Kart Maintenance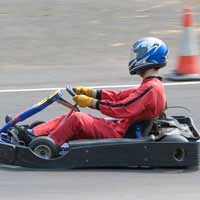 If you want your go kart to last for longer than one season and have optimum performance, end of season kart maintenance is an essential part of being a go kart owner. As your go kart is likely to be stored away until the start of the next karting season, certain maintenance tasks need to be carried out for safety purposes and to ensure that the go kart is in good condition for the next karting season.
Where to Store Your Kart
Store your go kart in a place that will not allow it to get wet, as this can quickly cause rust. If you have to keep your go kart stored outside (rather than in the indoors), cover it over with a tarpaulin to shield it from the elements.
Engine Maintenance
At the end of a karting season, drain your kart's engine so that there is nothing left in it. The easiest way to do this is to run the engine until it is completely empty. This probably will not remove all of the engine's contents, in which case you may need to use evaporation to fully complete the job. This should be done in a large, open area that is properly ventilated and free from any sparks or flames. If this is not possible, try using rags to remove the last of the oil from the engine. This will often be far more time-consuming, but it may be your only option.
When the times comes to bring the go kart out of off-season hibernation, take out the spark plug and apply a tiny bit of oil to the cylinder before inserting it back into place. After replacing the spark plug, pull the starter in a slow, gentle motion and re-attach the plug wire.
Cable Maintenance
The ends of cables can be affected if your go kart is going to be stored away for a few months. This is particularly true for the brake and throttle cables. To limit the possibility of the cables tightening up too much when the go kart is not in use, keep them properly lubricated on the ends. This can be done using a touch of WD-40 (or a similar product).
Start-of Season Maintenance
As well as end of season go kart maintenance, it is also important to take the time to do some pre-season go kart maintenance. When the new karting season arrives, there are some maintenance tasks that need to be carried out before the go kart should be used again. This includes re-filling the engine with fresh petrol, checking that the air filter is working properly, adjusting the chain and checking the tyres to make sure that dry rot has not set in while the go kart has been out of use. If you do not go through these type of pre-season maintenance checks, you run the risk that your go kart is not going to be up to scratch in terms of performance. It may even be unsafe to drive.
You might also like...