Outdoor Karting vs Indoor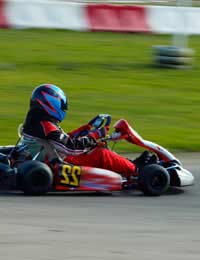 Outdoor Go-karting can be lots of fun, but you need to be prepared for the British weather! All-weather clothes are a must for outdoor Go-karting in the UK.
Most circuits in the UK offer outdoor Go-karting because the normal petrol-powered Go-karts produce toxic fumes when driven indoors. Most venues offer both indoor and outdoor Go-karting facilities.
Outfit
An all-weather outfit simply means something that can protect you against the elements (namely rain, sleet, snow and hail) while you're Go-Karting. A waterproof set of overalls is a good idea, and they aren't too expensive.
Anybody who wants to get involved in Go-karting on a regular basis in the UK will probably find waterproof overalls invaluable. Even for one-off or occasional sessions, they will still come in handy, especially given the unpredictable British weather.
Bad Weather
The major difference between indoor and outdoor Go-karting is handling the weather. Go-karting in bad weather is the ultimate test in how to handle a Go-kart. Any handling problems that you're struggling with are more obvious in wet weather, so it can actually work in your favour, as it can help you to iron out your weaknesses.
Another advantage of driving in the wet is that your fellow Go-karters will probably have no idea of how to handle their braking and general manoeuvring. If you can get to grips with it, you'll be in a much better position.
The dry racing line tends to get slippery once it gets wet, which means that using the parts of the circuit that aren't used as much is the best way forward, as you will have more grip.
Braking in wet weather isn't that different to braking in the dry, but the key is to be more aggressive. You need the tyre to bite without locking, and to release the braking pressure as the wheels start to lock.
Turning into high speed corners simply requires you to be gentle and smooth. It is very similar to how you would turn into the corner in dry weather.
Turning into low speed corners is a bit more problematic. You need to raise the inside rear tyre off the ground to stop the Go-kart from carrying on in a straight line. To do this, brake later than normal, as if you were going deep and wide into the corner. Fully lock your wheels by turning in quickly.
The Go-kart will try to resist, but the tyre will bite as your speed decreases, allowing the Go-kart to turn in sharply. At this point, you should find yourself on the cleaner part of the corner where there is more grip, and better traction to accelerate. Sit back after the Go-kart has turned in and gently feed in the throttle to limit the wheel spin.
Turning into a mid speed corner needs even more skill. Take as wide a line as possible through the corner. You may need to be aggressive, or lean to the outside front wheel, but this depends on the corner in question.
The best way to work out the most effective form of wet weather Go-karting is to get out there and practice in the rain. It's unlikely that your fellow Go-karters will bother to do this, so it will give you an edge over most of them.
You might also like...