Gaining Sponsorship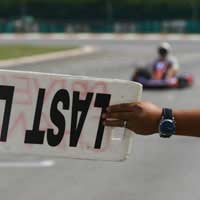 If you're hoping to use Go-karting as a stepping stone to the higher levels of motor sport (such as Formula 3 or Formula 1) gaining sponsorship is a must. Without it, it is very unlikely that you will be able to afford the costs of buying a competitive enough Go-kart, compete in races and ultimately work your way up the motor sports ladder unless you have lots of financial backing from your family.
Unfortunately, getting sponsorship is not that easy, and many talented drivers struggle to progress without financial backing. How can you make sure that this doesn't happen to you?
Be Persistent
Persistence is key when it comes to attracting sponsors. Getting sponsorship is not an easy process. For many drivers, it can take several years to get the right amount of financial backing, and some never do.
The average amount of correspondence that is sent out before replies come back is around fifty. If you send out enough letters or emails, you'll probably get a reply from a few people.
Strike A Bargain
Sponsors are not going to be interested in backing you if you can't offer them something in return. The most obvious thing that you can offer them is promotion. The more prestigious Go-karting championships are starting to get more television coverage (and media coverage in general), which means that if you are one of the more successful competitors, you can guarantee press coverage for the sponsor.
The more potential benefits you can offer sponsors, the more inclined they will be to back you. Of course, one sponsor's idea of a benefit won't be the same as another sponsor's idea, so your best bet is to tailor your proposed benefits to each individual sponsor that you target.
Deciding Who To Target
It makes sense to target the big companies, as they are the ones with the most cash to spare. However, you might be surprised to know that the majority of Go-karters get sponsorship from their family and friends, rather than from big companies.
Obviously, if you want to move into car racing, you will undoubtedly need to get much more financial backing from other sources, but many Go-karters find that being backed by the people around them is enough to be successful.
Timing
Timing your sponsorship request is crucial if you plan to target the big companies. Most of them will plan their budgets in advance - some as much as eighteen months in advance. If that is simply too long to wait, some businesses have to spend so much per year on extras so that that they don't get taxed on the additional income.
You basically take pot luck as to which companies do this, as it's something that they will not make known to the general public, but it's worth targeting as many companies as possible in case they do this.
It isn't necessarily the most talented drivers that secure sponsorship - drive and determination to succeed is one of the most important qualities that you can display. Not only will it help you to secure sponsorship, but it will also help you in your Go-karting career in general.
You might also like...
I'm Craig Shiluvane from South Africa looking for a sponsor to continue with my career of racing There is a lot opportunities in the UK and I'm willing to do my best to get them
KuSH
- 10-Jan-19 @ 11:24 PM