How do I Start Racing at a Competitive level?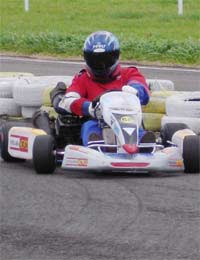 Q.I have done quite a few races at various tracks and have been successful. I would love to start racing on a regular basis at a more competetive level. Where do I start? Who do I contact?
(Mr Caine Harris, 12 September 2008)

A.
Racing well is just one part of competitive go karting. Most go karters who are serious about competing have their own go kart. This will probably be a used go kart to start with, but if you want to compete at the highest levels of go karting, you will eventually need to spend more money buying a new go kart.
You can buy a starter park from the Motor Sports Association (MSA) or Association of Racing Karts Schools (ARKS), which includes an application for your karting licence and a DVD to help your prepare for your driving test. This pack costs around £42 (at the time of writing). Once you are fully prepared, you can book the ARKS test, which also features questions of racing regulations and flag rules, as well as the compulsory driving test. If you're eighteen or over, you will need to pass a medical test, which is partially filled in by your GP. This costs £90, and the ARKS test costs around £80. If you need to hire a kart to take the driving test in, this will require an additional fee. If you are successful in these steps, you can then apply to the Motor Sports Association for your karting licence, which costs £29 and entitles you to start racing competitively. You need to provide proof with your application that you have passed the ARKS test.
.
Once you have your karting licence, you can become a member of a kart club. If you are aged 12-16, you can enter junior karting classes. Once you turn sixteen, you can move up to the senior classes. See our articles on "Junior Karting Classes", "Senior Karting Classes" and "How Much Does Go Karting Cost?" for more information on getting involved in competitive go karting. Although you can race at any club circuit, you can only be included in the club championship at your own club. Racing in club races will cost you, but members can often get a discount on these and practice sessions. Once you have proved yourself in the club championship, you can face greater challenges in national championships. Many of these will require you to have a National Grade A karting licence, and you will need to register well in advance of competing. The next step after success in national championships is international championships, such as European or World Championships.
It's worth remembering that motor sport in general is an expensive sport to compete in competitively, and although go karting is one of the cheaper elements of motor sport, it can still be pretty expensive. If you intend to compete at a high level or are interested in competing professionally, look into getting financial sponsorship, as this can help a lot with the costs. Generally speaking, the higher up you go, the more it will cost to compete.
You might also like...
Hello ive done many arrive&drive go kart races with family and friends and have been seeming to shred the tracks i would love to move up a level any ideas on how i start?
L.mulholland
- 28-Jul-12 @ 8:28 PM