Kart Racing: Recovering Motivation After Losing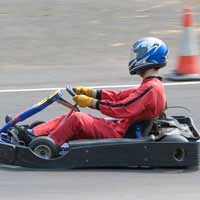 It can be challenging to revive your motivation after you've suffered a defeat but picking yourself up and moving on is vital for achieving a good result in the next competition.
Change Your Attitude
It's rare that someone can win all of the time so don't automatically think of yourself as a failure if you were soundly beaten in a particular qualifying session or race. It's how you deal with these defeats that determines whether you will become successful or not. Don't beat yourself for having 'failed' and instead accept that you are only human and are bound to have a bad day every so often.
Believe in Yourself
Having a few 'off' days over the course of a season doesn't make you any less of a karter. After a bad race weekend, it's tempting to see it as a sign that you're not cut out for serious karting and your self belief may well start to disintegrate. This can happen to the best of sportsmen, but they maintain enough self belief to move on from the setback without it being any more than a temporary blip in confidence.
Work Out What Went Wrong
If you had a poor result because of a personal error (as opposed to a mistake by your team or another competitor), chalk this up as a costly mistake and learn from it. In many situations, you'll learn more from your mistakes than your successes. Although it's obviously disappointing not to win, a loss gives you a greater chance to look objectively at your strengths and weaknesses and work on any areas that are currently weaker than others. As it's highly likely that you won't do this when you're on a winning streak or claiming podiums, you can look on it as an opportunity to help yourself develop as a karter.
Don't Dwell on the Disappointment
For some people, disappointment can be a feeling that lasts for more than a day or two but you need to overcome it more quickly than that if you're going to pick yourself up and move on. Once you've analysed what went wrong over the race weekend, it's important that you don't continuously think about the shortcomings as this will encourage the disappointment to linger on. You can't go back and alter what happened in that particular race or qualifying session, but you can affect the outcome of future race weekends – and your attitude can play just as bigger part in this as your actual karting.
Keep Your Eyes on the Prize
It's natural for your enthusiasm to wain if you're not experiencing success, but this can have a knock-on effect on future race weekends. If you feel your enthusiasm and motivation declining, keep focusing on your overall goal. This may be to come out on top at the end of the season or to stay on the right track for becoming a professional racing driver. Whatever the goal, keep visualising it to remind yourself of why it's worth the fight. Having something to work towards can be highly influential for regaining your motivation for future race meets.
You might also like...