Assessing the Track Pre-race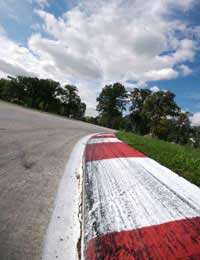 Pre-race routines vary widely from driver to driver, from secret, superstitious rituals to visualisation and concentration techniques. It is important to devise a pre-race routine that works for you, leaving you feeling prepared, confident and focused. Assessing the track pre-race is something that can benefit all drivers. This is a particularly important pre-race step if you are new to a track. Surveying and analysing the track needn't take long, and the pay off can be huge when it comes to your race performance. Whether you choose to get hold of and study a track map or walk around the track yourself, be sure to incorporate an analysis of the track into your pre-race routine.
Get hold of a track map
A track map is a fairly simple document, offering a bird's eye view of the race track and documenting the shape and details of the track, including its straights, corners, start and the direction of travel. Many track maps also give a short description of the track's defining qualities and difficulty level. Average lap time, track length and track capacity are also usually noted. If you can, be sure to get hold of a track map. Do this as far in advance of the race as possible. Take a look at the racing centre's website, as many companies post track maps online. Some even host videos, taken from a kart, of a driver completing a lap of the track. If such a video is available, make sure to view it several times until you get a feel for the track. Studying a track map will enable you to make strategic decisions in advance of the race. Take a look at the map and ask yourself, where will I break? How much will I break there? Where will I change gears? Are there any prime opportunities for overtaking or passing? Which parts of the track look especially tricky? Where can I play on my strengths? What will my start strategy be?
Survey the track in person
Depending upon the track in question, you may be able to walk the track or get a close look at it before getting into the driver's seat. If you have the opportunity to do so, take the time to ask yourself the same questions that you would call upon when assessing a track map. Ideally, consult both a map and take a look at the track itself.
Make the most of practice and qualifying sessions
During a qualifying or practice session on the track, be sure to concentrate fully and be as conscious of your actions as possible. Where are you breaking? Where are you changing gears? What will you do differently when it comes to the big race? What have you learnt about the track? Practice and qualifying sessions are also ideal for staking out the best spots to pass other karts. Where are the areas of opportunity? Imagine the line you would drive in an overtaking situation and practice it a few times.
When it comes to racing, the time you put into preparation is sure to pay off when it comes to your race performance. Take the time to assess the track pre-race and, in this way, you will begin the race equipped and with a plan of attack.
You might also like...