Race Day Food and Drink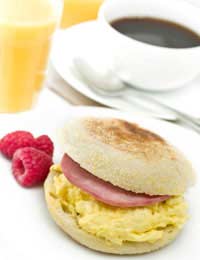 When it comes to race day food and drink, it can be difficult to get the balance right. Too little food and drink and you may lose concentration and become dehydrated, too much and you may begin to feel sleepy, bloated or heavy as your body sets to work digesting your meal. Getting the right balance of carbohydrates, protein and fruit vegetables is key.
Wise up on race day nutrition
On race day, aim to consume a healthy meal that is rich in both carbohydrates and protein. Opt for wholegrain or brown versions of starchy foods such as bread, pasta and rice. These complex carbohydrates will provide you with slow release energy, helping you to stay alert for longer and minimising dips in your blood sugar levels. Be sure to eat a portion of protein such as fish, meat, nuts, seeds, eggs, tofu or soy at each meal.
Fruit and vegetables are a must, too. Avoid sugary fruits such as grapes and bananas as these may lead to spikes and dips in your blood sugar levels, attacking your concentration. Dried fruits are very high in sugar, so steer clear of them. Raspberries, strawberries, peaches, apples, apricots and grapefruits are all relatively low in sugar. Opt for these if you can. If you reach to fruit as a pre-race snack, be sure to combine it with some protein to keep your energy levels steady. Eat a handful of blueberries and almonds, for example. Sugary and fatty junk foods should be avoided at all costs. Aim to eat something every three to four hours. Here are some examples of great race-day meals:
Ideal Pre-Race Breakfasts
Poached eggs on toast with fresh spinach
No-sugar granola with seeds, nuts and fruits
A Spanish potato omelette with roasted vegetables
A small fried egg and bacon sandwich
A grapefruit with two slices of wholemeal toast
Ideal Pre-Race Lunches
Wholemeal pasta with chicken, tomatoes and vegetables
Salmon, salad and brown rice
A bacon, avocado and lettuce sandwich on wholemeal bread
A tofu and cashew nut stir fry with vegetables
Ideal Pre-Race Snacks
Oatcakes with apple and peanut butter
Hummus and brown pitta bread
A peach and a handful of spiced sunflower seeds
A low sugar cereal bar and a strawberry milkshake
Stay hydrated
A well hydrated body is a must when it comes to performing well physically and mentally. Go karting is taxing on both the mind and the body and requires high levels of concentration and motivation. As such, keeping topped up with water is a must. Aim to drink at least eight glasses, or two litres, over the course of the day. You should drink more than this on particularly hot days. Steer clear of sugary drinks such as cola, lemonade and fruit juices. These will play havoc with your blood sugar.
Approach energy drinks with caution
The jury is still out as to whether energy and concentration drinks are a useful source of race day fuel. Their sugary formulas are dehydrating, so they should generally be avoided. If you are keen to test them out, try experimenting on a regular, non-race day and monitor your body and mind's reactions. Do the drinks help you to feel more alert? Do they make you jittery? Do they give you increased stamina? Do they cause you to experience an energy dip after half an hour? Ask yourself these questions and only use energy drinks on race day if you feel they really work for you.
When it comes to performing well in go karting races, it isn't just the fuel you put in your kart tank that counts. Wise up to race day nutrition and hydration and you are sure to see an improvement in your performance on the track.
You might also like...