A Guide to Overtaking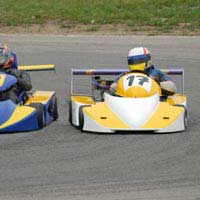 Many drivers boast impressive lap times but, when it comes to a race situation, they are let down by their inability to overtake. The frustrating experience of being stuck behind a slower kart is one common to many drivers. So what's the solution? Many drivers and spectators suggest that greater aggression on the part of the driver is what's needed. Experts, however, contest this quick fix and highlight the gradual nature of the process of learning to overtake. We take a look at the recommended steps to success.
What Prevents a Driver From Overtaking?
First of all, it is important to understand the common factors that stop drivers from overtaking. Fear is the main culprit. It can consume a driver's concentration throughout the race and fill their mind with 'what ifs'. Drivers imagine colliding, spinning and going wide. This sense of fear is compounded when it comes to overtaking. Inhabiting an alien part of the track puts the driver on alert and they enter survival mode. This frame of mind often means that drivers opt for safety and self preservation over risk and forego opportunities to overtake. Sheer force and bravery, though, are not the answer. In fact, attempting to be more aggressive can often scare the driver even more and inhibit their enjoyment of driving and racing, making them increasingly wary. It can also raise the frequency of arguments and promote bad feeling amongst drivers, decreasing morale damaging sportsmanship.
Overtaking and Braking: Tips For Success
Fear, then, should be tackled gradually and not with aggression. Since out-braking your opponent into a sharp corner following a straight is one of the most prevalent overtaking tactics, expert braking is essential here. Drivers should learn to hit the pedal quickly and with force. Be prepared for the kart to venture to the side and kill the pressure a touch to control your rear as you turn in. To minimise fear, brake especially hard in advance to find your braking limit and get a feeling for what is to come. Be sure to use a braking point: focus on marks on the track. As your overtaking and braking skills mature, you will find yourself braking later and later and your braking point will be pushed further back. The feeling of controlling a kart at its braking limit will instil you with confidence.
Practice Makes Perfect
Finding yourself on the inside of a driver and ready to overtake, your breaking point may not be visible or it may feel dangerous to brake late. Experts advise practicing using an 'overtaking line'. Drivers should near the corner as if overtaking and identify new spots on the track to use as braking points. With time, you are sure to learn at what point you are able to brake and still conquer the corner. This knowledge can then be applied in overtaking situations.
A Final Overtaking Tip
Karting experts are quick to point out that drivers drive where they look. When overtaking, looking at your target kart can trick you into keeping your distance. You may find yourself concentrating on the kart so as not to hit it. The key is to look at the space between the kerb and your target driver. Focus on the gap, aim at it and drive into it.
Success rarely arrives overnight, as the need to nurture overtaking skills demonstrates. When it comes to passing your opponents, practice is key. You will gradually learn to overtake with ease.
GOING KARTING IS FOR SALE.
This website is for sale [more info].
You might also like...