How Much Does Go-Karting Cost?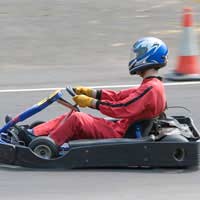 If you're only looking to get into Go-Karting on an occasional basis, it is fairly cheap to get involved in the sport. The Go-Karts and safety clothes that you need are provided at the circuit, so you will only need to pay for your actual Go-Karting session. However, as Go-Karting mostly takes the form of competitive races, most sessions take place in groups, which is obviously going to increase the price dramatically, even for a one-off or infrequent session.
Booking
As there are only going to be a limited number of Go-Karts available at any given circuit, booking your session in advance is advisable, and often it is the only way to guarantee that you will definitely be able to just turn up and start Go-Karting (or "Arrive 'n' Drive", as it is known at certain circuits).
Karting Costs
The cost of the average Go-Karting session varies according to the venue. For example, some venues will give discounts for group bookings, child karting and half day sessions. The price can either be per session or per rider. Expect to pay upwards of £10 for an hour on a circuit.
Equipment Costs
The general rule is that as long as you have a pair of thin-soled trainers (the thick-soled varieties can make braking and accelerating more problematic than usual because it is harder to feel how much pressure you're applying to the pedals, which will obviously make driving the Go-Kart safely a lot more difficult), you don't need to buy anything else.
If you are looking to get involved in Go-Karting on a more professional level, it is an entirely different story, and the costs can start to mount up very quickly. As soon as you move out of the casual or amateur category, you will need to buy (or build) your own Go-Kart.
Even a second-hand Go-Kart will not come cheap, and the more competitive models can set you back between £3000 and £5000, depending on how competitive you want your Go-Kart to be.
You will also be required to buy your own protective gear, such as a helmet that covers the whole of your face, and protective gloves and overalls (with a high collar).
All-weather outfits are a big plus too, especially given the erratic British weather!
It stands to reason that going Go-Karting on an occasional basis will be much cheaper than getting involved on a more regular basis, but it can still get pricey if you want more than a one-off session every so often.
You might also like...
How much it cost for 5 people at speedy fast track??
Marvin
- 28-Aug-16 @ 3:19 AM
How would one get into racing karts at a competative level? I know I'm quick and I enjoy karting. I think I've probably got enough money but I have no idea who to talk to if I wanted to join a race series.
Chris
- 23-Nov-15 @ 11:33 AM
@Lot - I'm afraid you would have to contact the organisation you choose directly or look online for their rates.
GoingKarting
- 4-Jun-15 @ 2:22 PM
Hi. I would like to know how much it would be to give my nine year old a gocarting party with five of his friends? It would have to be a venue near Edinburgh
@Chan - you would have to do this research yourself, dependent on where you wanted to go carting and whether you needed your own equipment.
GoingKarting
- 29-May-15 @ 11:17 AM
How much would it be for a family
Chan
- 26-May-15 @ 7:40 PM
How much does go karting cost for a family?
bob
- 13-Jun-11 @ 9:10 AM