Body Image and Karting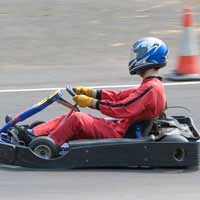 When Formula One racing driver David Coulthard recently admitted that he suffering from an eating disorder during his go karting days, he shed some light on body image in motorsport.
Body image refers to the way in which an individual sees himself, particularly in relation to his body. This is a big issue in many sports, as sportsmen and women place a high emphasis on their body image. For Coulthard, his negative perception of himself stemmed from his belief that he was too heavy in comparison to his rivals, and convinced himself that he needed to lose weight in order to make his go kart as light as possible, so that he could give himself an edge over his fellow competitors. As well as body weight, this can also include issues with general appearance, such as how you look in your go karting outfit.
How can body image affect your go karting performance?
It might sound completely unrelated to your overall driving performance, but negative body image can chip away at your self-confidence and self-belief, both of which are crucial for being mentally tough (see our article on "Mental Toughness" for more advice on this). It is common for go karters to feel that they are too heavy in comparison to their rivals, which can easily result in an eating disorder. The average go karting outfit is made up of several waterproof (and sometimes fireproof) layers, which can be quite heavy. When the helmet is taken into consideration, the overall added weight can be an additional cause for concern for some go karters.
Although eating less food may have the desired effect of making your go kart lighter, it will usually have adverse effects, including malnutrition (see our article on "Nutrition For Go Karters" for more advice on what you should be eating and drinking), loss of muscle tone, and decreased concentration. All of these can have a detrimental effect on your go karting. The reverse can also happen if drivers feel that they need to bulk up in relation to their fellow go karters.
How can you deal with body image issues in go karting?
There are a few things that you can do to improve your body image, and stop it affecting your go karting performance. These include:
Accepting your strong and weak points: Nobody is perfect, and there are always going to be areas that you would love to improve on. If you can accept that this is going to be the case, it can help you to project a positive body image.
Pay attention to your body: Your body will let you know when it is hungry. It is important not to ignore this. A healthy, balanced diet is much more beneficial than intermittently starving yourself (as is the case with anorexia sufferers) or gorging on food and forcing it back up again (as is the case with bulimia sufferers).
Negative body image is often perceived as being an issue that solely affects females (especially teenage girls), but its effect on males is greatly overlooked. A significant proportion of anorexia and bulimia sufferers are male, and many of these are involved in sport - either on an amateur or professional basis. Go karting is no exception to this, as David Coulthard's admission makes obvious.
You might also like...