Karting for Kids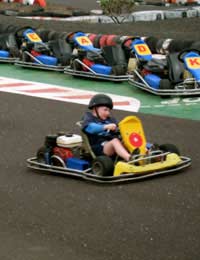 Plenty of kids are obsessed with motor vehicles. From toy cars to plastic motor bikes, speed and noise capture many a child's imaginations. For a large number of children, therefore, getting behind the wheel of a kart and taking charge of its controls is a dream come true. So, what do parents need to know before their children get behind the wheel?
What Are the Restrictions?
Many go-karting classes and party packages have minimum height restrictions and leg lengths which may prevent some shorter or younger children from getting involved. Minimum weight restrictions also apply. Different carting centres and class types cater for varying ages, sizes and abilities, however. For example, centres that provide for very young children tend to use slower, smaller karts. These often run on inflatable tracks with inflatable barriers, ensuring that small kids get their fair share of the fun. Be sure to note down your child's height and weight before making enquiries. You may find you need to travel a little further afield to find a facility that can provide for your child. Some health problems may prohibit children from getting behind the wheel. Check with your child' doctor and with the karting centre experts if you are concerned. Cost is also a significant deciding factor; prices for a couple of hours driving can exceed £30, making karting an expensive hobby.
How Should Children Prepare for Karting?
Very little preparation is needed. Indeed, approaching karting with a clear mind can be the best way to go about it. It is important, however, that children wear comfortable clothes that allow for ease of movement. Sportswear such as jogging bottoms and t-shirts are ideal. A balanced, healthy breakfast or dinner is also advisable. Karting is an energetic sport and young stomachs can soon begin to rumble as a result of all that physical exertion and excitement. Children should avoid heavy foods that could induce bloating as these can increase the chances of nausea or sickness. If you child regularly suffers from motion sickness, consider advising them to take a travel sickness pill or wear sickness bands.
Is My Child Confident Enough?
Perhaps unsurprisingly, it is often the case that young drivers take to karting with more ease than their adult counterparts. Beginning in a slower cart, (the slowest only reach speeds of approximately six mph), might play some part in this. Many children have an innate enthusiasm for sports and give their all behind the wheel, proving fast learners. If you are keen to ease your child into the sport gently, why not consider going along to a track at which you can be a spectator? You might also think about making Formula 1 a regular feature on the family television. Remember, though, that karting isn't for all children and their enjoyment of it doesn't always depend upon their confidence levels. Encourage your child, by all means, but beware of being a pushy parent. Karting is a fun sport and, first and foremost, should be practiced for enjoyment.
More detailed information on junior karting classes and children's karting parties can be found elsewhere on this site. The information above, however, should leave both parent and child feeling prepared for their child's first karting experience. All that remains is to relax and watch at a safe distance as your child tries their hand at one of the most rewarding sports the UK has to offer.
You might also like...
I need a downhill gravity gokart kit. Not motorized. where can I find one
gabby
- 7-Jan-13 @ 1:05 AM
Hi, my son is 13, and for Xmas I want to buy him a go cart. But I need to find a place he could drive it and get lessons in our small town of Chico CA that doesn't offer enough for our kids. We don't even have a chuck e cheese. :( Can someone contact me with some good advice; not just what cart to buy but also where we can get lessons or pointers or find safe places to drive?Thanks so much, please email me,Bree or Sabrina
Bree
- 25-Nov-12 @ 8:24 AM
Hi My yong son is interested in racing go karts and I am looking for a website that will give me a list of clubs that train juniors and give them a chance to try karting.your website states "More detailed information on junior karting classes and children's karting parties can be found elsewhere on this site."Where is this information and does it give me a list of clubs? Thanks
Lesley
- 16-Jul-12 @ 12:46 PM