Off-Road Karting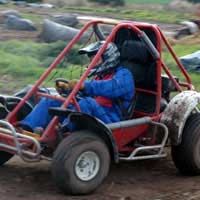 Off-road karting is a great idea if you want to get involved in karting but don't want to race competitively on the track in a race situation. As you might expect, off-road karting is a much tougher ordeal than track karting, and usually takes place on ground that is much less flat. Because of this, it requires very different karting skills to track karting, as well as a very different type of kart that is a lot more robust, so that it can cope with the diverse terrain.
Where can I go Off-Road Karting?
Not every Go-karting circuit will have off-road karting facilities, so you will probably need to look for a leisure centre instead, as off-road karting is fast becoming a popular recreational activity. Most leisure centres that offer activities like paintballing will probably also have the facilities for off-road karting too, as the two are often included in the same activity package.
What Type of Kart do I Need?
Most venues that offer off-road karting will provide the kart as part of the price of the package, but some people choose to build their own off-road kart instead. This can be difficult though if you're anything other than a real karting enthusiast who knows exactly what you are doing, as off-road karts need a very different building plan to regular go-karts.
Off-road karts are much sturdier than regular karts, which obviously means that they will need to be built somewhat differently to the usual go-kart that is designed to race on flat tracks. They sit further up from the ground, and can often look more like quad bikes than go-karts. Because of this, the frame is a lot more complicated to build, which is one reason why serious off-road karters usually buy an off-road kart instead of building one themselves.
Most people prefer to use the off-road karts that are provided by the venue though - building your own off-road kart is best left to those who want to go off-road karting a lot, and are experienced enough to do so unsupervised.
What equipment do I need?
The usual protective gear applies for off-road karting, and this includes a protective helmet that covers as much of your face as possible, gloves, and all-weather or fireproof overalls (preferably both). Most of the time, this will be provided as part of the price of your package, so you might not need to bring anything specifically for your session.
A pair of trainers are recommended though, particularly those with a thin sole. It's best to ask in advance when you book your session to see what (if anything) is included in the price of your package so you don't arrive at the venue without the necessary equipment.
Off-road karting can be a fantastic experience if you're looking for a different kind of karting thrill, or just want to try something that is a bit more out of the ordinary. Don't worry if you've never been off-road before - there's a full safety briefing and practice session before you're let loose on the testing terrain!
You might also like...