Buying Your Own Kart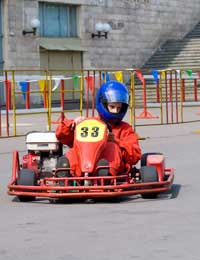 As your Go-karting career progresses there will come a point when you need to buy your own Go-kart, rather than keep hiring one from the circuit. It can be hard to know how to choose the right type of Go-kart for your individual needs, as there are so many different types on the market, but there are some tips you can follow when looking to buy your own Go-kart.
Firstly, you need to determine whether you are going to be buying a brand new Go-kart or a second-hand one. If you don't have sponsorship, this is mostly affected by how much money you have to spend on your Go-kart.
New Go-karts
Brand new Go-karts tend to be rather pricey - the average new Go-kart costs between £3000 and £5000, which is obviously going to be out of some people's price range. However, you will be getting a competitive Go-kart for your money, so it is usually worth the extra expense. Most drivers have to find sponsorship to buy a brand new Go-kart.
It sounds obvious, but you need to make sure that the Go-kart is in the best condition before you buy it. Unlike used Go-karts, a brand new Go-kart shouldn't have been used in any Go-karting activity, so it shouldn't have been involved in any previous accidents.
Second-hand Go-karts
Not everyone can afford to buy a brand new Go-kart, which leaves a used Go-kart as the best option. If you're planning to buy a second-hand Go-kart, you should be aware that it's probably not going to be as competitive as a brand-new Go-kart (hence the cheaper price).
They may not be competitive enough to take part in Go-karting classes, so you'll need to make sure that it has the necessary features before you buy.
It's very easy to buy Go-karts online, but this isn't recommended as people often lie about the condition of their Go-kart so that they can offload it on someone else, and it's difficult to tell much from the few photos that may have been uploaded on websites such as eBay.
Ideally, you want to be able to inspect the Go-kart yourself so that you can spot any faults before you hand over your money.
Look for Go-karts that are less than five years old and in good condition. Obviously, it won't be in perfect condition, but it has probably only suffered from minor wear and tear.
Make sure that it has all of the complete parts before you buy. If the Go-kart needs specialist parts (such as axels or brakes), it could be cheaper to buy a new Go-kart instead. Many specialist parts are hard to get hold of and can be pretty expensive, so it can cost you in both time and money. You can't cut corners by fitting new parts into an older model as they are likely to be incompatible.
When it comes to buying anything, you need to be clued up before you part with your cash, and buying your own Go-kart is no exception.
GOING KARTING IS FOR SALE.
This website is for sale [more info].
You might also like...
look to how much are your karts start from
avg
- 11-Aug-14 @ 9:56 PM