Moving From Karts To Cars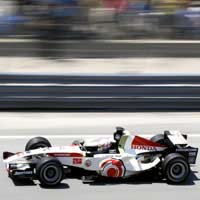 Many Go-kart drivers dream of becoming a Formula 1 driver. Stars such as Michael Schumacher and Lewis Hamilton began their careers in karting and used it as a stepping-stone to greater success. Moving from karts to cars is often a difficult step, and there are many talented drivers who never manage to make the jump.
From karting, the next step for most drivers is one of the lower Formulas, such as Formula Renault or Formula BMW. Karting is a great platform to build your skills, but it is a lot different to Formula 1, which means that you need to learn your trade in other forms of motor sport first.
There are many levels that you have to move through before you can be ready for the big time. Exceptional talents have been able to bypass these, such as Kimi Raikkonen's move from Formula Renault straight into Formula 1, but this is rare. For most drivers, it is a case of proving your talent and building up a reputation in the lower Formulae.
Some of the most popular car racing series are briefly outlined:
Formula Renault
This is considered to be one of the first bridges to the higher levels of car racing. The cars used are of the open-wheeled variety, and use a Renault Clio engine, which is attached to a Formula 3 gearbox. They can go from 0 to 100 in less than 5 seconds. The chassis is made from carbon fibre.
From here, drivers often move to Formula Three, GP2 (formerly F3000) and testing and racing in Formula 1. Drivers who previously participated in Formula Renault include Kimi Raikkonen, Felipe Massa and Lewis Hamilton.
Formula Three
Like Formula Renault, the cars used are open-wheeled. It is regarded by many as the first big stepping-stones up to Formula 1. Almost all of the other competitors will also be looking to forge a career as a professional racing driver, whereas in the lower tiers, many drivers will be amateurs.
Like many countries, Britain has its own Formula Three championship. Drivers from all over the world flock to compete in it, as it is noted for producing future Formula 1 stars. Because of this, the costs of racing in the series are high, and gaining financial support is very important.
The more successful drivers typically move into GP2, A1 Racing or test-drives and race seats in Formula 1. Michael Schumacher, David Coulthard, Ralf Schumacher and Ayrton Senna are previous competitors.
GP2
Formerly known as Formula 3000, GP2 is another springboard to Formula 1. It differs from other series, as all teams must compete with the same engine, tyres and chassis suppliers. With any prior advantages removed from the equation, it is usually pure talent that prevails. Former champions include Nico Rosberg (son of Keke Rosberg) and Lewis Hamilton.
There are points available for pole position on Saturday, winning the races on both Saturday and Sunday, and for setting the fastest lap of the race. The maximum 20 points per round for doing all of this has been scored just once by Nelson Piquet Junior in 2006.
A1 Grand Prix
A1 Grand Prix differs to the other series, as drivers must represent their country, rather than a constructor. Drivers do not score points for themselves - instead, their points are added onto the team total (similar to the Formula 1 Constructors' Championship). This allows teams to change drivers throughout the season without it affecting their overall score. Instead of being a stepping-stone to Formula 1, it tends to run as a separate series altogether.
The season runs during the Formula 1 off-season, which allows drivers who usually participate in other series (such as Formula Three or GP2) to participate for a round or two.
Moving from karts to cars can be an expensive and frustrating process. Drivers such as Michael Schumacher, Kimi Raikkonen and Lewis Hamilton show that it can be done as long as you have enough talent, but none of them became instant successes overnight.
Hamilton may have appeared to have come out of nowhere, but he had been working his through Formula Renault and Formula Three before moving into Formula 1, attracting the attention of McLaren boss, Ron Dennis, in the process. Getting financial backing is one of the most important things if you're looking to move into car racing, as it isn't cheap.
You might also like...