Famous Go-Kart Racers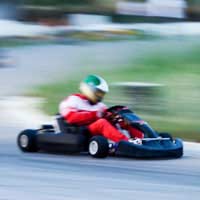 Go-karting has been a successful stepping stone for many big names in the higher echelons of motorsport. In Formula One, almost all of the drivers will have started off their careers in Go-karts before moving onto cars. This is hardly surprising, as Go-karting is considered to be the place to tailor your racing skills and iron out any kinks.
Michael Schumacher
The German won a record seven Formula One World Championships, and will probably be considered one of the sport's true legends in due course. Like all of the racing drivers profiled here, he cut his racing teeth on the Go-kart scene with considerable success.
He drove his first kart when he was just four years old. He received financial sponsorship from the local area on an intermittent basis, which allowed him to pursue racing as a career. His father built his first Go-kart and enrolled him in the local club in Kerpen, Germany, where he was the youngest member (along with younger brother Ralf, who also went on to become a Formula One driver).
He became the German Junior Kart Champion in 1984 and retained the title the following year, when he also became the runner-up at the Junior World Kart Championships. After switching to the senior competitions, he clinched the German and European Senior Kart Championships in 1987. Having dominated the Go-karting scene, Schumacher moved to cars in 1988.
Kimi Raikkonen
Although the 2007 Formula One World Champion skipped many of the lower Formulae in car racing en route to Formula One, he started his career in Go-karting. He was a multiple national karting champion in his native Finland, and he also participated in the Finnish Championships, the Nordic Championships, the Monaco Cup and the Formula Super A title. He then made the move to driving Formula Renault cars whilst still being in his teens.
Fernando Alonso
The 2005 and 2006 Formula One World Champion enjoyed lots of success in Go-karting. His father built his first kart when he was only two years old. It was originally built with his older sister in mind, but it was given to him when she didn't take up Go-karting. He won his first title at thirteen after claiming the World Junior Karting Championships. He made the jump up to cars when he was eighteen.
Lewis Hamilton
Before he became the most successful rookie driver in Formula One history (to date) after narrowly missing out the 2007 title in his debut season, Hamilton was making light work of his rivals in the lower Formulae and in Go-karting.
He started karting at the age of eight. He won the Champions of the Future series, which attracted interest from the McLaren Formula One team. They signed him up to their Young Driver Development Programme and funded him through Go-karting and car racing until he made his Formula One debut for the team in 2007. He won the European Formula A series before moving onto Formula Renault.
You do not need to be absolutely dominant in Go-karting to be able to excel at the highest levels of motorsport. There are many cases in which those set the benchmark in Go-karting did not make a successful transition to racing cars, while their less illustrious rivals went on to do so. However, most of the highly successful racing drivers were also the ones to beat on the Go-kart track.
You might also like...