Transporting Your Kart and Tools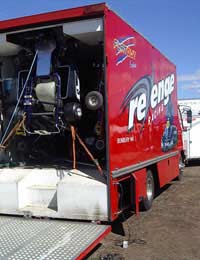 For the keen rider, investing in a go kart can be a hugely rewarding experience. Becoming familiar with a specific vehicle, maintaining and improving a kart and even building your own machine from scratch, not to mention waving goodbye to regular rental fees, are all advantages of owning your own go kart. Owning your own go kart does go hand in hand with extra responsibility, however. You will need to carry out or arrange repairs, for example. Crucially, you will also need to devise a means of transporting your go kart from your home to your local track or to race tracks further afield. Whilst ideal for the race track, go karts are not designed for travel on regular roads. So, what are your options when it comes to transporting your go kart? Whether you choose to buy your own van or trailer or employ a reputable shipping firm, it is important to make an informed decision.
Transporting a Go Kart Using a Van or Trailer
If you are likely to be using your go kart regularly, buying a second hand van or trailer may be the cheapest option. Being able to transport your kart and tools in one vehicle is also an advantage. Be sure to measure and weigh your go kart before setting out to buy a vehicle. Ask karting friends whether they know of anyone with an appropriate van for sale. Alternatively, take a look at go karting forums online to see if you can pick up a bargain.
Hiring a Shipping Company to Transport Your Go Kart
When travelling further afield, it is often sensible to employ a shipping company to transport your go kart. Doing so will ease your own journey, as well as securing the safety of your kart. You could even fly or take a train to your destination, whilst your kart travels ahead of you on the road. When hiring a shipping company, look for reliability and responsibility. Ask to see references and insurance policies and look out for any loopholes or additional charges. Not all shipping companies will be willing to transport your tools along with your kart. Some companies will also require you to transport items such as helmets yourself. Be sure to check up on these details before committing yourself to a firm.
Preparing Your Kart for Transit
Whether you choose to transport your car yourself, or employ a shipping firm, it is vital to fully prepare your go kart for each journey. Be sure to remove any accessories such as mirrors and flags that could become dislodged in transit. This is a particularly important step if you choose to transport your kart using a shipping company, as it is unlikely that carrier will provide compensation for damaged or lost accessories. You should also take the time to conduct a brief mechanical overview. Take care to check the fluid levels for leaks, to avoid any messy accidents. Close your kart's fuel shut-off valve, if it has one. Check that the kart's tires are inflated to the right level, too, as flat cars can make moving the kart difficult.If you are employing a shipping company to transport your kart, you should also spend a few minutes checking your kart for damage. Photograph and make a note of any scratches or dents. If your kart is damaged in transit, these details will be of great use when it comes to filing an insurance claim.
Transporting your own kart can prove a stressful experience for the underprepared. Take your time to research various transit methods and to prepare your kart for its journey, however, and any hassle will be minimised.
You might also like...