Karting For Women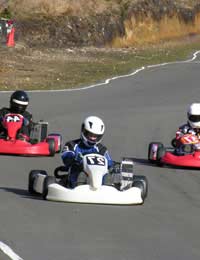 Go-karting is often seen as a male sport but the success of women, like Indy Car driver Danica Patrick, is inspiring more women to get in on the act. If you're female and looking to get into motor sports, there are options you can take.
Both boys and girls can start Go-karting from the age of eight. The real gender inequalities come when females try to move into the higher levels of motor sport.
Karting for Women
There is an organistion set up to encourage female Go-karters who want to take part in a safe and friendly environment. From 2008, they hope to have established a UK race series, with six rounds per race. This will happen at different circuits across the Southern part of the UK.
There will be two classes: Beginners and Intermediate. The Beginners class is aimed at women who want to get started in Go-karting, or who are working towards buying their own Go-kart. You can hire Go-karts from the circuit. This class will use four-stroke Go-karts.
The Intermediate class is strictly for those who already own their own Go-kart. It uses two-stroke Rotax Max engines or four-stroke Clubman engines. The series all depends on the number of people who sign up though.
British Women Racing Driver's Club (BWRDC)
The BWRDC is dedicated to backing women in all forms of motor sport, from Go-karting through to Formula 1. Anyone with a Motor Sports Association (MSA) license can become a member of the club.
Formula Women
Formula Women is designed to give females the chance to get into motor sport. It allows women to race in championship races across the UK. Each circuit provides a different racing environment, and it can be challenging to adapt to the diverse conditions. As race preparation is always going to be minimal, natural talent is able to shine through more easily.
Getting one of the coveted sixteen spots is highly competitive. You need to beat thousands of other women just to reach the last 100, and then fend off competition from those drivers during an "elimination camp" to claim a place in the final. As well as racing, selection is based on interviews and fitness tests.
Sponsorship
Gaining sponsorship is one of the most important aspects for aspiring drivers. Without it, the vast majority of drivers will simply be unable to afford to race competitively at the higher levels.
The average track day and tuition (for the levels above Go-karting) costs around £325 just to take part, but this is just the tip of the iceberg as far as costs are concerned. It can cost as much as £2000 for the average race weekend, so getting financial support is a must.
Getting sponsorship is hard enough for any driver, but it is much more difficult for women. Females often have to do twice as much promotion as men to land a sponsorship deal. Many female motor racing hopefuls have their own official websites showcasing their results and achievements in a bid to attract sponsors, as well as doing charity work to raise their profile.
You might also like...