UK Go Kart Regulatory And Sporting Bodies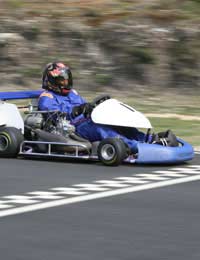 There are many regulatory and sporting bodies that oversee karting. Together they make sure that karting is as safe as possible, and that both karting classes and race meetings run as smoothly as they can. Some of the main regulatory bodies are briefly outlined below.
Association of British Kart Clubs (ABKC)
They represent over thirty of the karting clubs across the UK, and are intended to act as a go-between for kart clubs and the Motor Sports Association (MSA).
They publish regulations each year for their direct drive and gearbox championships, which are then published in the MSA Kart Racing Yearbook (known as the "Gold Book"). Karting clubs that have strong links with the ABKC are expected to follow these rules during their race meetings.
ABKC karting clubs follow MSA regulations. As the ABKC regulations only serve as regulations for karting clubs, both officials and safety regulations having to agree with the MSA Kart Racing Yearbook for the given year.
Associations of Racing Kart Schools (ARKS)
ARKS is responsible for the ARKS tests, which are compulsory. As the name suggests, they regulate several karting classes, which are of a high standard regardless of your prior ability. The website is a good place to find an ARKS registered karting school, all of which are recognised by the MSA.
British Karting Industry Association (BIKA)
BIKA is designed to look after the karting manufacturers, circuit owners and retailers. Many karting-related businesses are members, and BIKA require these to look after their customers' interests as part of their code of conduct.
Motor Sports Association (MSA)
The MSA is the only governing body of motor sport in the UK. It is recognised as such by the Federation Internacionale de l'Automobile (FIA), which is the world governing body for most motor sports. As a result of this, the MSA is in charge of controlling karting, as well as taking care of the administration side of things.
National Schools Karting Association (NatSKA)
NatSKA holds race meetings at big race circuits throughout the UK that comply with MSA regulations. They aim to increase the amount of UK schools that are involved in karting. Any children over the age of ten are welcome to join, and they are eligible to race until the end of August following their exit from full-time secondary education.
There are nine karting classes that are designed to suit all ages and abilities. Some of the karts used are built by schools, but others have been professionally built. As it is not particularly expensive (especially when compared to other ways entering into karting), NatSKA offers a great way to get involved in karting without having to pay a small fortune for the privilege.
Joining NatSKA involves your school becoming a member school. This is a relatively simple process.
The regulatory bodies are mostly in place to make sure that there is an adequate system in place to organise the many different karting classes, races and championships. As a kart driver, you might not that even be that aware of the regulatory bodies, but it's good to know that they're working in your favour, and are there to protect everyone who is involved in karting.
You might also like...