Go-Karting Tips And Guides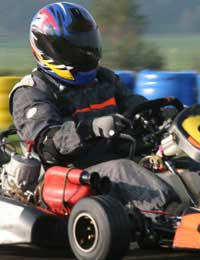 Go-karting is about more than just driving. There are other vital elements that must come together to produce a successful Go-kart driver.
Tyres
Your tyres are an important part of Go-karting. You need them to have the right amount of grip to improve your lap times. Tyres should be chosen according to their compound when it comes to different weather conditions. You should be looking to get the best possible traction and this will influence your choice of tyre.
Fitness
Fitness is another important component of Go-karting. A half-hour session is more strenuous than it might seem, as your body is given a mental and physical workout. This is why the better drivers tend to have a good level of basic fitness. On top of this, you need to be prepared to work hard on your fitness to improve it.
After a race, you will undoubtedly find that there are certain muscles that hurt more than others. These are the muscles that you need to target the most in your fitness regime. As a general rule of thumb, upper body strength is one of the first areas that you should work on, along with improving your strength endurance and building up your stamina.
Regular training is crucial. Many drivers prefer to train hard for the majority of the time, and then ease up in the days leading up to a race. This allows your body the chance to recover before the race - the last thing you want is to be drained during the race.
Weight is also a factor. Ultimately, it is your body weight that plays a key role in the handling of your Go-kart. This is why most of the karting classes in the UK have minimum weight restrictions in order to take part in them. The ideal body weight to be is a weight that is just above the minimum weight restriction for that class.
Thinking Ahead
Anticipation is another key component in Go-karting. Being able to look ahead and anticipate what might happen further down the track is usually instinctive, but many drivers find that their anticipation and visualisation skills improve over time and with experience.
Preparation
Before race day, it is a good idea to familiarise yourself with the circuit as part of your preparation process. For some drivers, this can take the form of reading articles and race reports from past races that have taken place at the circuit, while other drivers like to look at photographs and maps of the circuit to help them see the challenges that lie in wait for them.
There is no substitute for getting out there and getting a feel for the circuit during practice laps though. Preparation is always an individual choice, and it is down to you to work out which form of preparation works best for you.
Once you start racing on a regular basis, you will come to understand the importance of "hidden" factors, such as choosing the right tyre compound for race conditions, working on your fitness, preparing for a race and anticipating during a race can all play a key role in your Go-karting success.
Learning how to take advantage of these factors can give you an edge over your competitors, and this will ultimately help to make you a better driver.
GOING KARTING IS FOR SALE.
This website is for sale [more info].
You might also like...
Hi there I'm keen to get involved in karting but just wondering what is the max weight of a driver to race? I'm about 114kg and my friend is 79kg any info would be great thanks
Nugget
- 25-Mar-11 @ 4:46 PM