Staying Focused During Racing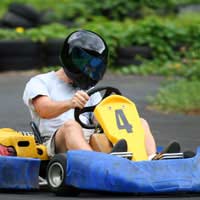 It doesn't matter whether you are a seasoned driver or are just starting out on the road towards achieving excellence in karting, you are never going to be first across the line if you don't concentrate on what you are doing and what is happening around you every second of every lap.
Such is the amount of time and money invested in both man and machine, and preparing both for the next race, that it is dispiriting, to say the least, when one moment of indiscipline or absent mindedness blows any chance of taking first place.
Which Line to Take
This is not to say that a driver should go into the race feeling under any pressure because of that aforementioned investment. Rather their mind should be free to concentrate on the challenge ahead. There is always the chance that pressure can begin to build because of the knowledge that the efforts and hopes of a number of people are riding on how well you perform. But this pressure must be relieved, and the way to relieve it is simple: remember that every moment worrying about other people is a moment spent neglecting which line to take into the next corner, whether your wheel handling is up to scratch, and whether you could have handled that last gear-change a little better. Pressure should not be confused with pre-race nerves. The latter are natural; indeed many competitors will tell that without those nerves, they wouldn't be geared up to competing effectively and successfully.
Indeed, a lack of nerves can point to another fatal flaw: over confidence. On no account ever think that you are simply too good for the competition, or that you should now be graduating to the next category. The result will be that your driving becomes sloppy, and rather than looking like the king of the track, you will have observers wondering why you were ever allowed behind the wheel in the first place.
Pre-Race Checks
So use those nerves in a positive way. Go through your pre-race checks, so that your mind is satisfied your machine is geared up to the challenge. Now that you have complete confidence in the kart, next comes your side of the bargain: steering it to victory.
You know where you want to be at the end of the race, so focus on that goal and don't be sidetracked by any in-race incidents. Your competitors are there to beat you, so don't let individual incidents result in a red mist that clouds your judgment. If another driver's manoeuvre angers you, simply put it to the back of your mind, otherwise that anger will mean you will lose focus which, in turn, will mean you no longer have the finishing line in your sights.
Once the race is over, continue focusing: that means analysing your performance and the reasons for it. If you lost, why did it happen, and what can be done to iron out the rough edges of your driving? More to the point, if you won, ask yourself why and build on the victory. On no account sit back on those winner's laurels. Every driver should strive to improve. Most importantly, keep that focus. It is the mental edge that can make all the difference during those final few laps.
You might also like...