Go Kart Racing Categories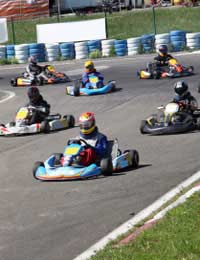 There are many different karting categories in the UK. Many of the karting championships are regulated by the CIK-FIA, which is a combination of the Championship Internationale de Karting (CIK) and the Federation Internationale de l'Automobile (FIA).
Some of the main karting categories include KF1, KF2, KF3 and KF4 all use water-cooled 125 cc two-stroke engines, which come complete with starter and clutch, but they have different technical specifications, such as carburettors and rev limits. There are also other racing categories such as KZ1, KZ2 and the Super 1 series. All of these categories are regarded as the top level of karting, and there are championships in each category.
KF1 (Formerly the Formula A category)
This is often seen as the very top level in karting. Anyone over the age of fifteen is able to take part, as long as they are of the required standard. Drivers must finish in the top 34 in KF2 before they are eligible to take part in KF1.
Because of its status as the pinnacle of karting, it is expensive, and costs can reach £50, 000 per year or more, just to take part and race. The previously used 100 cc water-cooled engines have been replaced by a 125 cc Touch-and-go (TaG) engine, which is cheaper to run.
KF2 (Formerly the Intercontinental A category)
The 100 cc direct drive engines that were previously used were replaced by 125 cc "long-life" TaG engines, which come complete with starter and clutch. These have a rev limiter, which stops drivers from going beyond 15,000 RPM.
KF3 (Formerly the Intercontinental Junior category)
This is one of the highest levels of karting that still has national championships in Europe, as well as in the Oceania and Asia-Pacific regions.
As with the other categories, the 100 cc water-cooled engines have been replaced by a 125 cc TaG engine to cut costs. The rev limiter only allows driver to reach 14,000 RPM.
KZ1 (Formerly the Super Intercontinental category) and KZ2 (Formerly the Intercontinental C category)
KZ1 and KZ2 replace the 125 cc gearbox categories. Unlike the other categories, they have not been modified much.
The KF2 category is popular in the US, and uses 125 cc water-cooled two-stroke engines, along with a six-speed gearbox. The engines and the chassis have to be approved by the CIK-FIA beforehand. Drivers above the age of fifteen can enter. There are both national and continental championships.
Super 1 Series
This is one of the most popular karting categories in the UK, and is made up of three separate karting series:
MSA series: This is made up of KF1, KF2, KF3, Formula 100 and Formula Cadet.
Rotax series: This is made up of Minimax, Junior Max, Senior Max and Senior Max 177.
TKM series: This is made up of Formula Junior TKM, Formula Junior Intermediate, Formula TKM Extreme, TKM Junior and Honda Cadet.
The different racing categories have been modified in 2007 to use the same (or very similar engines) to cut costs. The main similarity between all of the categories is the high standard needed to take part in them. They usually accept only the best drivers. The categories were renamed to indicate their position in the hierarchy - KF1 is more prestigious than KF2 and so on.
GOING KARTING IS FOR SALE.
This website is for sale [more info].
You might also like...