What Is Go-Karting?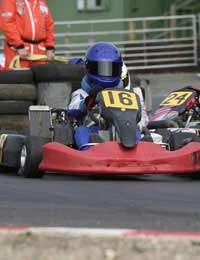 Anyone over the age of eight can take part in Go-Karting. The junior age groupings mostly span three or four years (for example the 8-11 age group). Senior groupings start at sixteen.
Groupings can often be classified by weight, as some of the categories require you to be a certain weight in order to drive the relevant Go-Kart.
Go-Karting is often seen as a platform from which youngsters can progress through the ranks into Formula 1 (if they are good enough), but it is increasingly being enjoyed as a recreational motor sport in its own right.
What Is A Go-Kart?
Go-Karting involves driving open-wheeled vehicles, usually around a circuit. It is a great way to get into motor sports, as Go-Karts tend to be easy to drive. There are just two pedals to drive - the accelerator (to speed up) and the brake (to slow down and stop).
If you have never actually seen a Go-Kart before, they are open-wheeled vehicles (with four wheels) that sit very close to the ground. This means that unlike a normal car, you have to sit very close to the ground. This can feel strange at first, but it is something that you quickly get used to.
As well as the base being closer to the ground, Go-Karts are also open to the elements, as there is no front, back, sides or roof to protect you in bad weather, or if you are involved in an accident.
Go-Karts have a low centre of gravity (due to being so close to the ground), which makes it much more likely that you will merely spin, rather than flip over, so the dangers are actually minimal.
You are given a full safety briefing before you are allowed to get into the Go-Kart, as well as five minutes practice to get used to the Go-Kart before you encounter other people on the same track.
How Fast Does A Go-Kart Travel?
Different Go-Karts can reach different speeds. For example, the Superkart (which differs from normal Go-Karts in that its bodywork is fully aerodynamic, and it is designed to race on circuits that are at least 1500m long) can reach speeds of up to 160 mph (250 km per hour).
A 100 cc Formula A kart has a top speed of around 85 mph (140 km per hour), whereas a 125 cc shifter kart can reach around 115 mph (185 km per hour).
What Happens In A Go-Kart Race?
Most Go-Karting involves racing against other drivers. These races usually fall into one of three general categories:
Sprint - These races happen on tracks resembling small road courses. The tracks can range from 400m to 1600m.

Sprint races are shorter than the other two types of races, and often last less than fifteen minutes. There are usually three qualifying phases, as well as the final race.

Sprint races are similar to the qualifying and race formats in Formula 1, although they are much shorter. Speed and overtaking are important skills.

Endurance - These races last longer than sprint races, and can be anything between half an hour and twenty-four hours (the longer races use two or more drivers).

The Le Mans 24 Hours is along similar lines, but uses cars instead of Go-Karts. Reliability and pit stop strategies play a big role in endurance races.

Speedway - These races take place on asphalt or clay oval tracks that are between 250m and 400m long.

Races can be just four laps if you are just racing for trophies, or twenty for a full race.
Most Go-Karting races in the UK are sprint races, which is probably why Go-Karting is considered to be such a vital springboard for aspiring Formula 1 drivers. For the more casual drivers, Go-Karting is a great way to spend a couple of hours and unleash your competitive side.
You might also like...
id love to start up a go kart business when i get the money but how long will it take for the business to catch up in a country like mine(uganda)
Yabz
- 23-Feb-17 @ 9:49 AM
I have had fun go-karting and its so much fun and im amazing at it
rossy
- 13-Jul-12 @ 9:31 AM